National Taiwan Normal University (NTNU) and the University of California, Los Angeles (UCLA) signed a Collaboration Agreement (CA) on November 2, 2021. Through this Collaboration Agreement (CA), NTNU will send outstanding Chinese language instructors to UCLA each year, while UCLA students will come to NTNU for in-depth Chinese language study and provide English language tutorials to local elementary schools in New Taipei City.
NTNU Executive Vice President Frank Ying said NTNU and UCLA already have extensive ties through the years. In addition to the academic credit system between the Education Departments of the two institutions, cooperation through the NTNU-UCLA Taiwan Studies Initiative has also in recent years stimulated further relationships between teachers and students of both universities. The CA signing with UCLA will not only expand the scope of exchange between the two schools, it will also strengthen the government's two-pronged approach of promoting Chinese language learning and building a bilingual nation.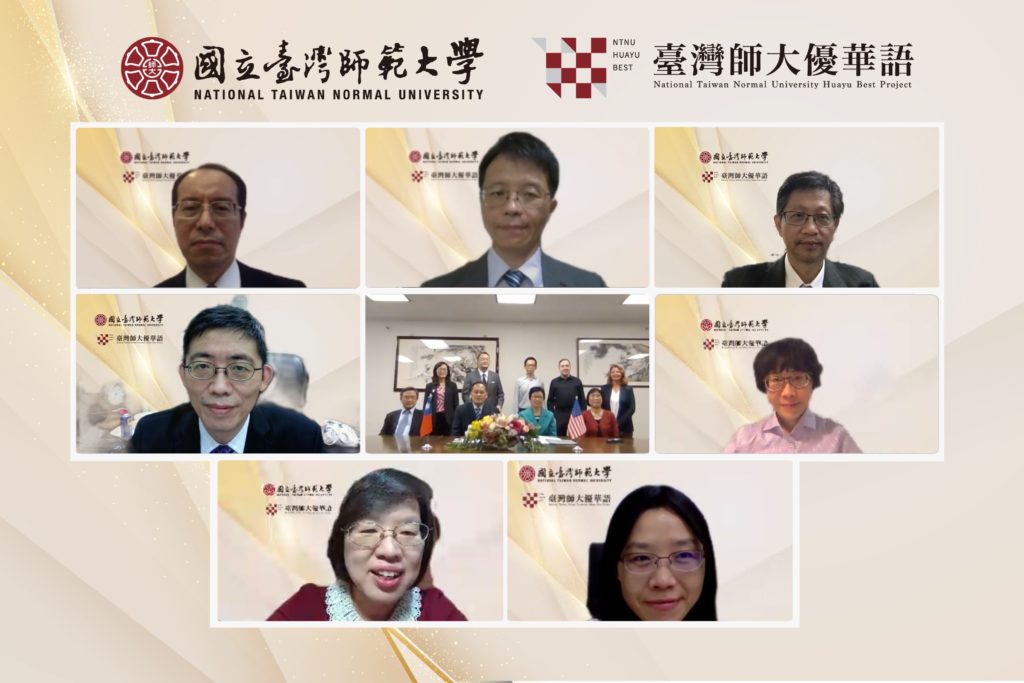 Signing the CA on behalf of NTNU was Vice President for OIA Chun-Chi Lin. Also in attendance were Executive Vice President Frank Ying, Associate Vice President for OIA Nikky Lin, Director Chung-Chiang Hsiao and Associate Director Chao-Mei Du of the Mandarin Training Center, and Chair of the Department of Chinese as a Second Language Ya-Hsun Tsai. Signing on behalf of UCLA was Cindy Fan, Vice Provost for International Studies and Global Engagement. Hong-Yin Tao, UCLA Professor of Chinese Language and Linguistics & Applied Linguistics, was also present along with Director Min Zhou and Executive Director Elizabeth Leicester of the Asian Pacific Center. In addition to the CA between UCLA and NTNU, the ceremony also included the signing between UCLA and the Taipei Economic and Cultural Office in Los Angeles under the framework entitled "the Memorandum of Understanding on Taiwan-US International Education Cooperation." Signing on behalf of TECO-LA was Director General Louis M. Huang. David Lin , Director of the Political Division Rebecca Lan, Director of the Education Division Hui-Chen Pan, and the Education Officer also attended the ceremony.
In a recent advancement for the field of Chinese language instruction, NTNU has integrated its abundant academic resources and innovative research and development technologies to create user-friendly online digital tools and an automated diagnostic platform for listening, speaking, reading, and writing — providing Chinese language learners with a more scientific and objective learning process to boost learning results. Meanwhile, joint efforts by academic units within NTNU such as the Department of Chinese as a Second Language, the Mandarin Training Center, and the Center for Psychological and Educational Testing led to the formation of a special unit for the Test of Chinese as a Foreign Language (TOCFL), energizing the promotion and research of Chinese language proficiency testing so as to cultivate effective operations for Taiwan's Chinese language learning and evaluation industry. Due to its solid foundation in Chinese language instruction, NTNU was awarded the Taiwan Huayu BEST Program this year by the Ministry of Education in line with the government's strategy for the Chinese language learning market globally. In the program's first year, NTNU has successfully collaborated with the world-renowned UCLA and Pennsylvania State University in launching numerous Chinese language programs.