8.1 Spirit of the SDG and the University's Philosophy
To address the problems of global unemployment, poverty, and unequal economic development, SDG 8 focuses on promoting full employment and reasonable compensation for everyone. All organizations need to provide high-quality education and training opportunities, as well as good and safe working environments and remuneration, while at the same time considering relevant safeguard measures and the provision of a friendly working environment.
While the salaries of all NTNU faculty and other staff are in compliance with the law, safety contracts are additionally provided, with abundant internship opportunities at home and abroad provided to students. In terms of overall institutional governance, the University proactively promotes the practices of antidiscriminatory employment protection for faculty and other staff, creating a gender-equal employment environment. At the community level, the University proactively nurtures future employment talent, and students are given the opportunity to attend internship-related courses and to obtain internships in the community and industry, thereby enriching their practical professional experience. At the national level, more than 85% of employees at the University have signed safety contracts, ensuring occupational safety. On the international front, the University has signed cooperation agreements with overseas universities to further facilitate and promote cross-border exchanges with partner universities. In addition, the University offers scholarships and grants for teachers to travel abroad, thereby providing them with opportunities for overseas research, further studies, lectures, visits, and seminars, and so enhancing international exchanges. Furthermore, the University provides its students with opportunities to travel abroad for short-term studies and internships, which opens up their horizons with an international perspective.
Proactively providing a safe and friendly working environment for faculty and other staff
NTNU is a national university, and in accordance with the relevant regulations of the central government, the salaries of full-time faculty and other staff are approved and issued on a scheduled monthly basis. For those who receive the lowest salaries, their monthly salaries meet the requirements for the statutory basic salary in Taiwan. On top of that, the recruitment and promotion processes of the University operate in a fair, transparent, and impartial manner, and do not discriminate on the basis of religion, sexual orientation, gender, or age. The University also upholds the rights and interests of laborer, women, and foreign workers. For example, the University provides safety measures necessary for women working at night, and allowances and seminars to help new foreign teachers to integrate into the campus culture as soon as possible. In addition, the University conducts work management assessments in accordance with government regulations and University rules, and there is no forced labor. Salary payments, increases therein, and the promotion of faculty and other staff are performed in accordance with the relevant regulations of the central government as well as the University's own renumeration policies. The remuneration for equal work does not differ due to gender, sexual orientation, marital status, childbirth, or pregnancy. The University has also formulated a clear staff complaints process and standards, which include review points of the University's Staff Complaint and Appraisal Committee, the main points of complaints and investigation of the University's sexual harassment prevention, and the prevention plan for unlawful infringements when performing employment duties. All of these measures ensure the safety of faculty and other staff in the workplace, and the per-capita expenditure on these measures is around NT$ 1.6 million.
Providing a wealth of internship courses and programs to cultivate the career development of students
In order to enrich the professional practical experience of students, the University offers 176 internship-related courses in various departments and programs, and nearly 3,500 students were enrolled in these courses in 2020. Through these internships, students can apply what they have learned to the community and to their chosen fields. The University also offered students with practicum courses and the "NTNU@StartUp". In addition to providing students with real workplace experience and nurturing diverse abilities, these internships also help students to explore their career inclinations early on. The University is a teacher-training institution, and 471 students participated in domestic education internships in 2021. In addition, in order to promote employment opportunities for students and to integrate them with industry, the Career Center at the University holds career expos, seminars on job-searching skills, recruitment orientations, and other initiatives each year to provide students with diverse information and to help them better gauge job-market information, plan their personal careers, and improve their employment prospects. Via overseas internships, the University proactively cultivates students' international cultural vision and global mobility. However, due to the COVID-19 epidemic, only 11 people participated in overseas education internships and the international history and wisdom program during 2021. The Sea of Studies Dream Building Project financially supported 3 teachers and 20 students, while the New South Bound Sea of Studies Dream Building Project funded 2 students to travel to Burma to study. There were also 1 teacher, 13 students, and 10 international volunteers who participated in overseas teaching during 2021.
8.3.1 Enriching internship courses, enhancing students' practical experience in their chosen fields
In addition to enhancing the opportunities for students to combine theory and practice, the 176 internship-related courses offered by the University help students to learn by being involved in and reflecting on social issues and personal development. For example, in the Community Elderly Service Internship course, students are able to practice in community-care bases and related fields, where professional teachers are available to assist in monitoring their trial teaching.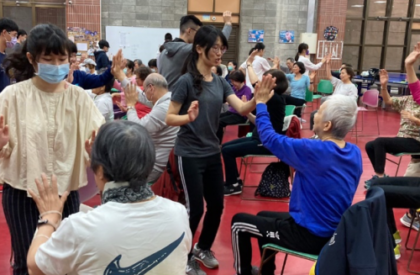 8.3.2 Career expos to assist students with career exploration
The University promotes the career development of students by holding events such as career expos, seminars on job search skills, and recruitment orientations every year. This provides students with diverse information and helps them better gauge information about the job market, plan their personal careers, and improve their employment prospects. The industry categories in 2021 covered five major fields: manufacturing technology, photoelectric digital, financial transportation, healthy living, and public education consulting. In addition to recruiting recent graduates, there are also companies that offer long-term internships to provide students with functional training and diverse learning channels.